---
The latest generation of myenergi products have built-in Ethernet and Wi-Fi allowing them to connect to the internet. (Serial number starts in a 2)
If you are using the Wi-Fi option then it needs to be connected to your Wi-Fi router.
There are two options:
If your router has the "WPS" function then you can use this to pair the myenergi device to your router
The alternative method is to connect your phone or computer to the local Wi-Fi Access Point in the myenergi device.
The two options are summarised in the diagram below;
---
Connecting using WiFi Protected Set-up
To complete the WIFI setup for your Myenergi product, please follow the below steps:
1. Navigate to the menu as shown in the image.
- If the 'Wi-Fi' option is showing as 'Off', select it and press '+' to turn it on.
However, if it does not turn on and an ethernet cable is plugged in, then you need to contact Technical Support at Support@myenergi.com or call 0333 300 0313.
2. After turning on the Wi-Fi, select 'WPS Activate' from the menu.
3. Press the WPS button on your router when prompted. Please note that the WPS button is different on every router.

4. Once you press the WPS button on your router, return to the Myenergi product and press +/Tick.
6. Wait until the screen on your Myenergi product shows 'Connected' to complete the WIFI setup.
- In case it doesn't show up the first time, repress the WPS button on the router and activate WPS via Myenergi Product to try again.
7. Once the product displays WIFI CONNECTED, it means your product is now connected to your router.
Now your product is connected
---
Connecting using a Smart Phone/Tablet & Myenergi Access Point
Your myenergi device will only use Wi-Fi if you do not have an ethernet cable plugged in.
The WIFI module is switched on by factory default when the device is first installed.
If you have trouble setting up the Wi-Fi module or this is not a first-time installation from the factory, check that the Wi-Fi is turned on and then reset the Wi-Fi module.
Navigate to 'Other Settings' > 'Advance' > x x x x > 'System' > 'Reset WIfi Settings' > 'Confirm'


Now your WIFi is reset, navigate to 'Other Settings' > 'Internet' >'Wi-Fi' > 'Wi-Fi Config…'If it is showing as 'Off', select 'Wi-Fi' and press '+' to set to ON (Note: it may take a few seconds for the display to say "ON").
Scroll down to 'Access Point', this should be set to ON by default. If it is showing as 'Off', select 'Access Point' and press '+' to set to ON
Now, Press the Menu button back to the WiFi menu, make a note of the SSID and Password information or take a photograph to assist you with the next steps.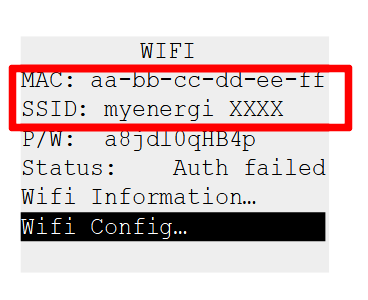 You will be prompted for the Wi-Fi password. This is the password given in the menu you noted down above.

On your Smartphone, Navigate to the Settings Screen and WIFI, Tap on the Myenergi network that matches that of your Devices Screen. Example Below.


On the pop-up display on your smartphone enter the passcode you noted down from your Mtyenergi Device.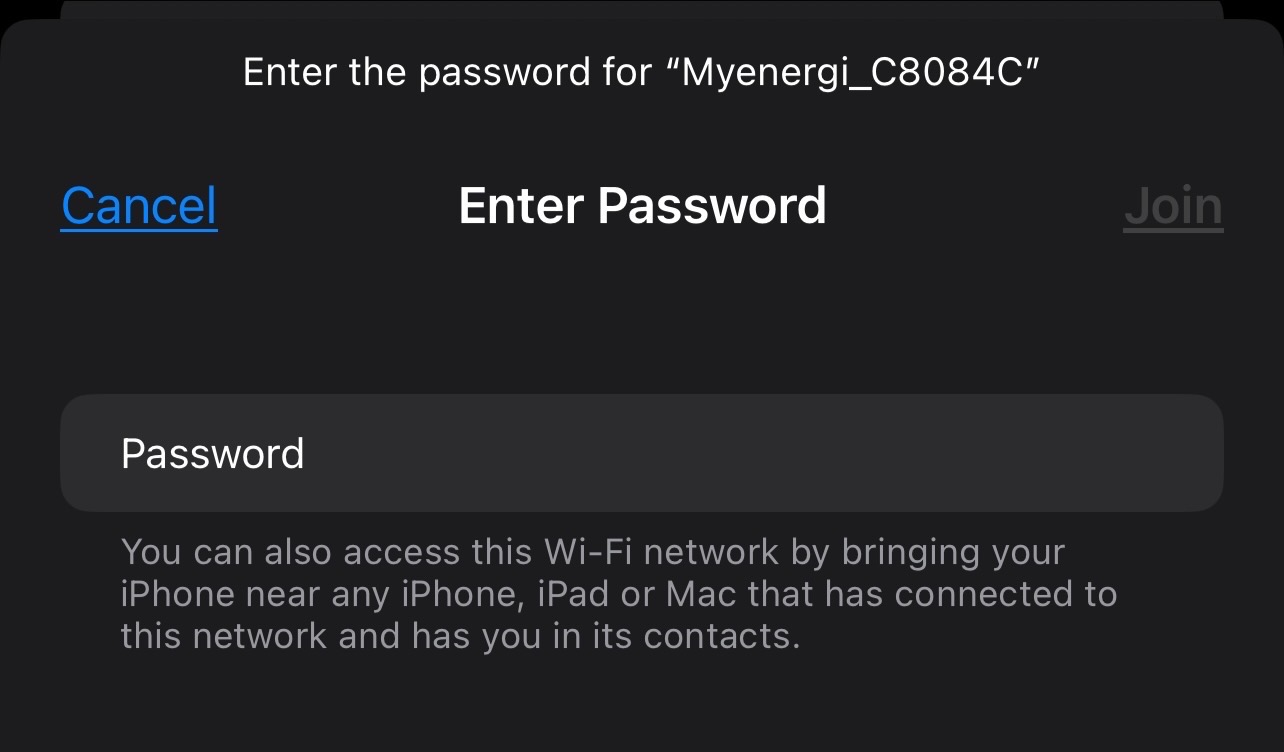 NOTE - If you are on an ANDROID Smart Phone you may need to go into your connection and then 'manage router' settings
At this point, your phone/tablet should launch a web browser and take you to the WiFi setup page. If this does not happen then open a web browser and enter the address 192.168.4.1
Now a new pop-up window will appear: you will now be prompted to create a new password to protect the Wi-Fi settings from being changed by anyone else. This must be at least 8 characters long, consisting of a combination of lowercase and uppercase letters, and digits. Make a note of the password as you will need it if you ever need to change the Wi-Fi settings.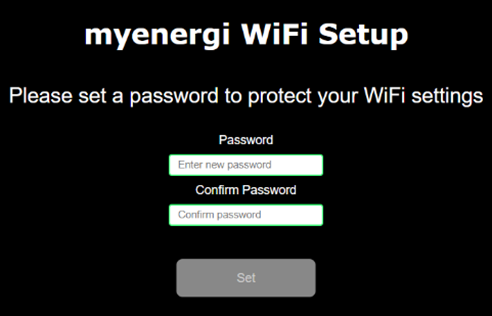 Wait 5 seconds for your password to change and the webpage to reload.

Once connected, you will be directed to the webpage as shown below where you will need to select your home Wi-Fi Network from the list in the "Detected Networks" box and type in your Wi-Fi password to allow connection to your router. Then press Connect.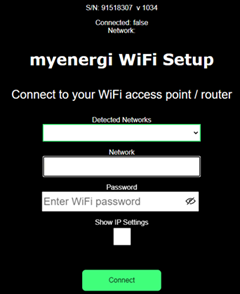 Note; In most cases you should leave the "Show IP Settings" option unticked. However, if you want to give your zappi/eddi a fixed IP address then tick the 'Show IP Settings' box and fill in the extra information needed.


Please wait 15 seconds for the connection to take place.

Make sure that the Wi-Fi is connected. You can check this by either:
Looking on the settings web page, where you should see "Connected" is showing as "True" or On the Wi-Fi screen on the zappi, where it should show as "Connected"



NOTE: If the screen above does not appear check your phone or computer is still connected to the myenergi access point.

Finally, check to see if there are any firmware updates available.
Note: Once connected, the "Local Access Point' (created by the zappi) will turn itself OFF as it's only needed to set up the Wi-Fi connection. If no connection is established your 'Access Point' will remain ON for 60 minutes before turning itself OFF. Turning it off prevents anyone else from connecting to the myenergi device and changing the settings.
---
Resetting your Wi-Fi configuration
If you are having problems with your Wi-Fi or have lost the password to be able to reconfigure your Wi-Fi then the simplest solution is to perform a total Wi-Fi reset using the screen on your device.
Menu -> Other Settings -> Advanced -> System -> Reset Wi-Fi config
This will completely wipe the Wi-Fi configuration on your device (other charger configurations will remain unchanged) and allow you to start from the beginning either by using WPS or the inbuilt wireless network.
---
Next Stages (Setting up the app)