The myenergi app provides lots of information on your energy usage.
As well as the live display that appears when you first open the app you can dig into the energy data by selecting any of the icons on the screen.
The green leaf in the middle of the screen indicates how much of the power you are currently using comes from your own "green" generation. In the image below 66% of the energy being used is coming from the solar panel.
Selecting the "green leaf" icon at the centre of the screen provides an overview of all your devices and energy usage.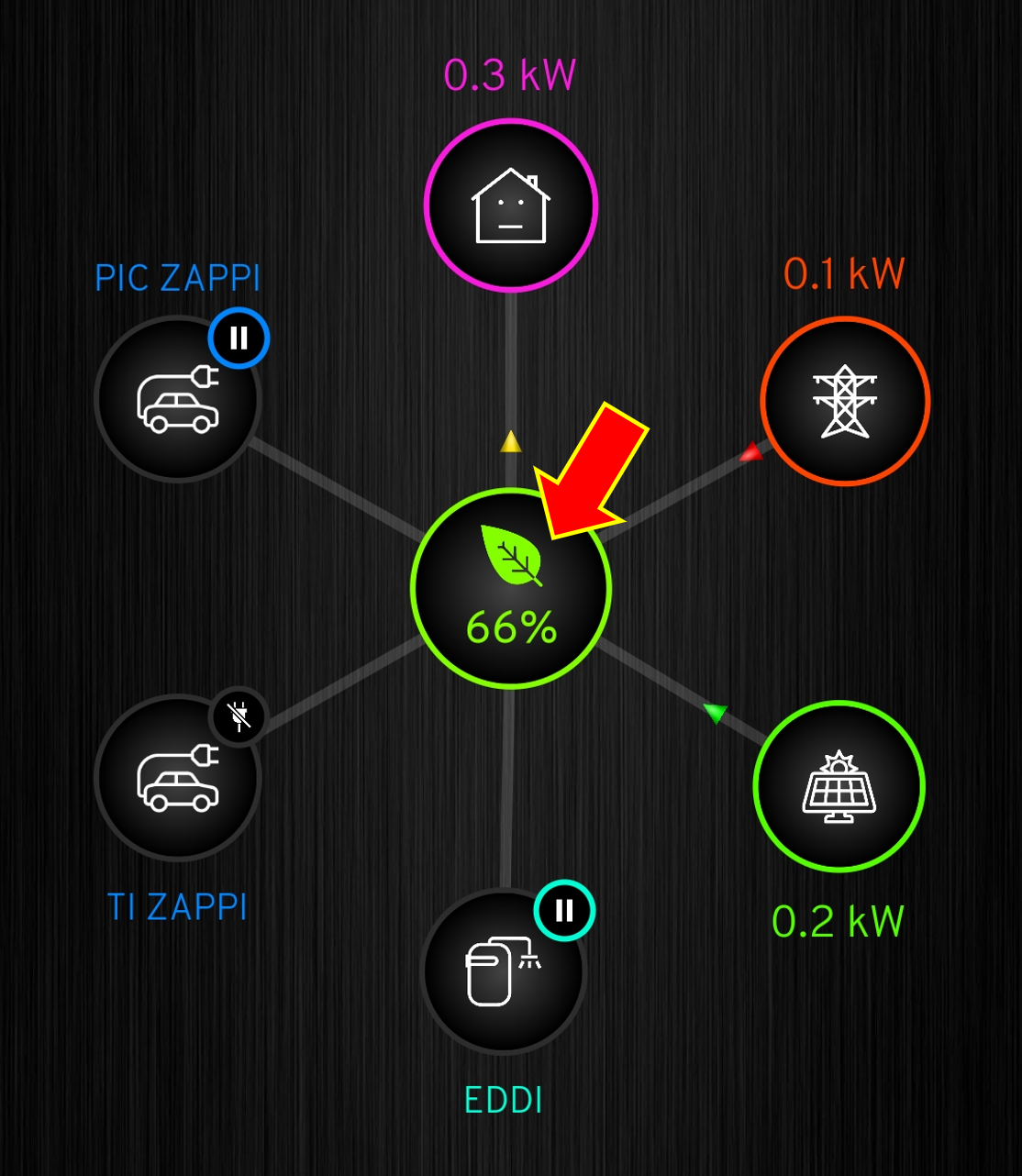 The next screen is split into two regions. At the top you have a summary of the energy used (defaulting with today)
---
Energy Analysis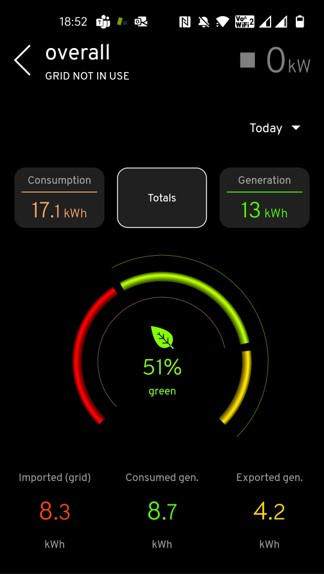 When this screen opens, it defaults to showing the totals (all in kWh)
| | |
| --- | --- |
| Consumption | The total energy used within the property. Includes all the energy measured by the myenergi devices + the energy used by anything else in the property |
| Generation | The energy generated by any PV panels or a micro wind turbine |
| Imported (Grid) | The energy imported from the grid |
| Consumed gen. | The energy that was generated by the local PV or wind turbine that was used inside the property (sometimes referred to as "self consumption") |
| Exported gen. | The energy that has been generated locally and exported to the grid. |
| Green leaf percentage | This is an indication of how much of the energy used has come from local (green, renewable) generation. |
By selecting the two total boxes at the top of the display it's possible to dig deeper into the figures.
The left hand figure (Consumption) focuses on where the energy came from to supply all the loads in the property.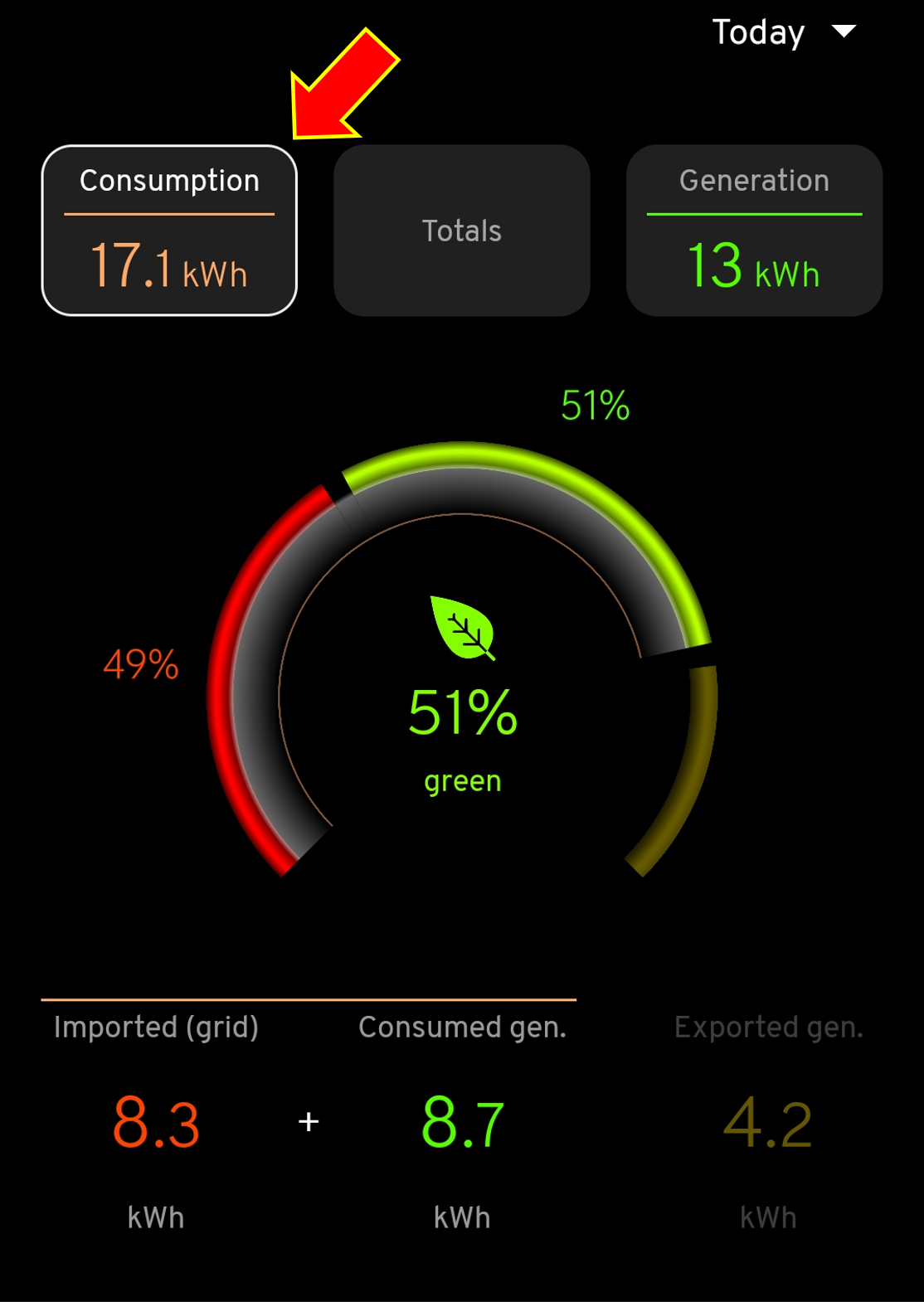 The right hand figure (Generation) focuses on how the local renewable generation has been used.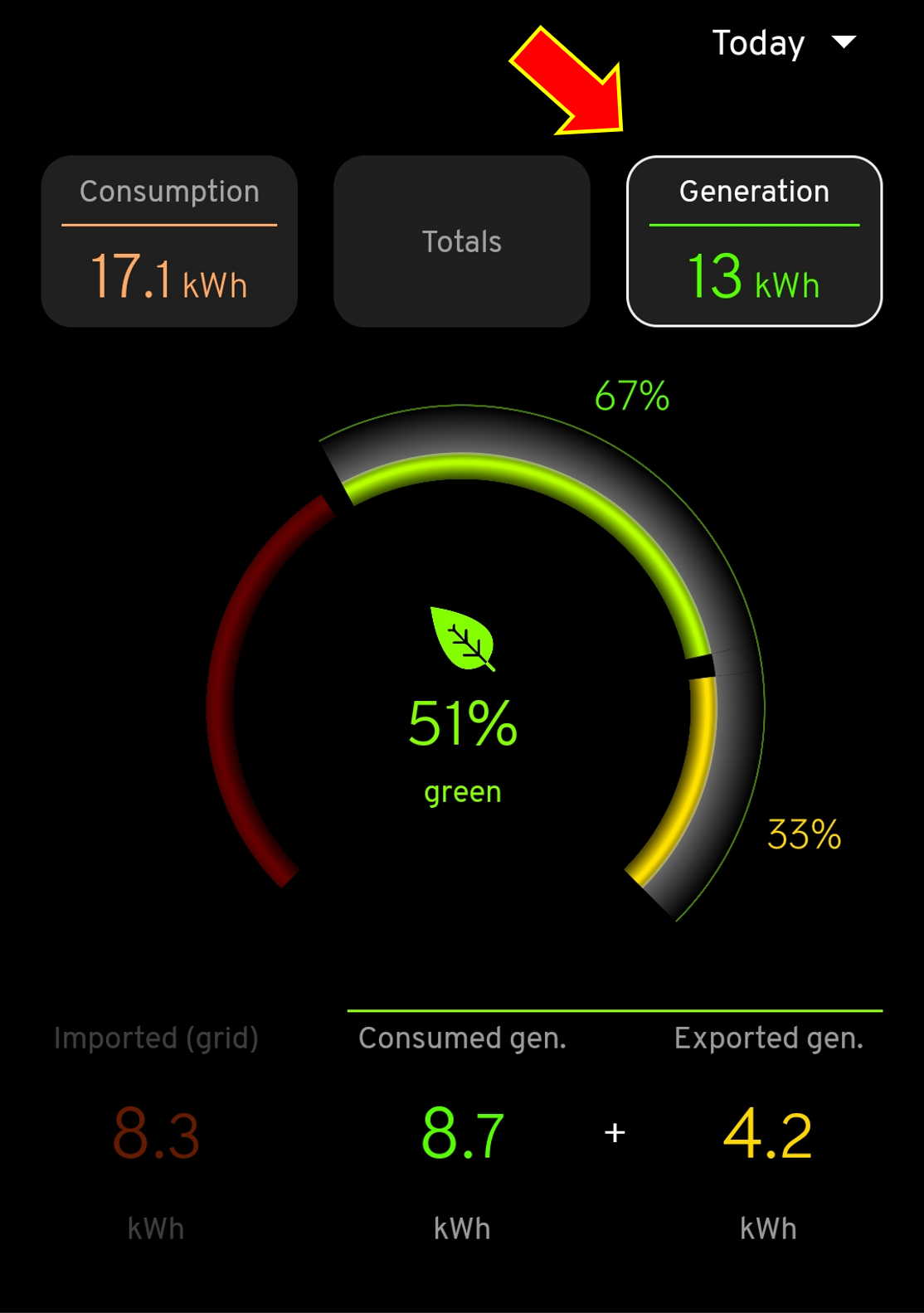 ---
Energy Graphs
The bottom half of the screen provides graphs of the energy usage with time (energy history)
The first graph provides details of the overall energy usage and where it comes from.
It's possible to choose what is displayed by selecting the different energy bars underneath the graph.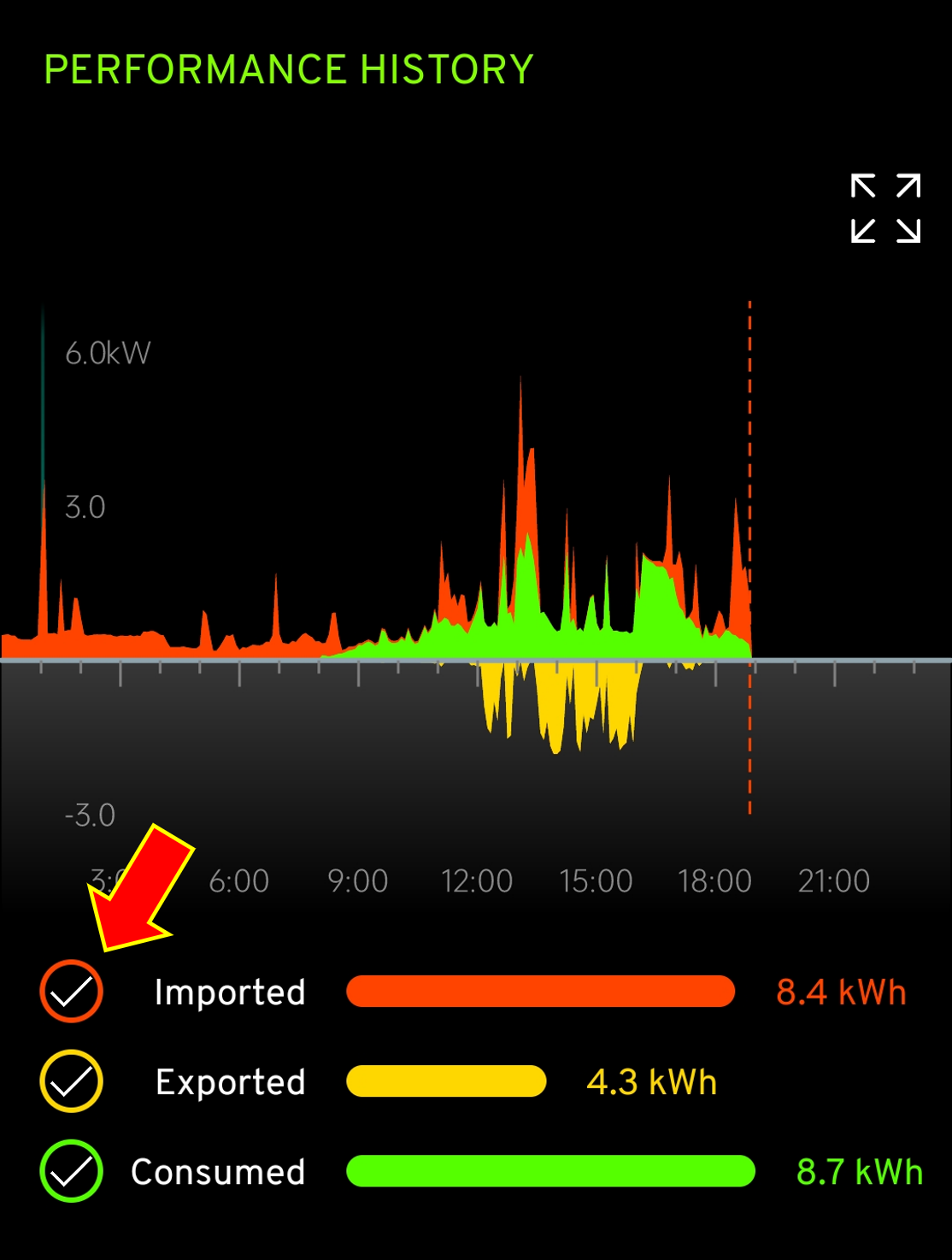 The last graph focuses on the device usage. Again, it's possible to choose what is displayed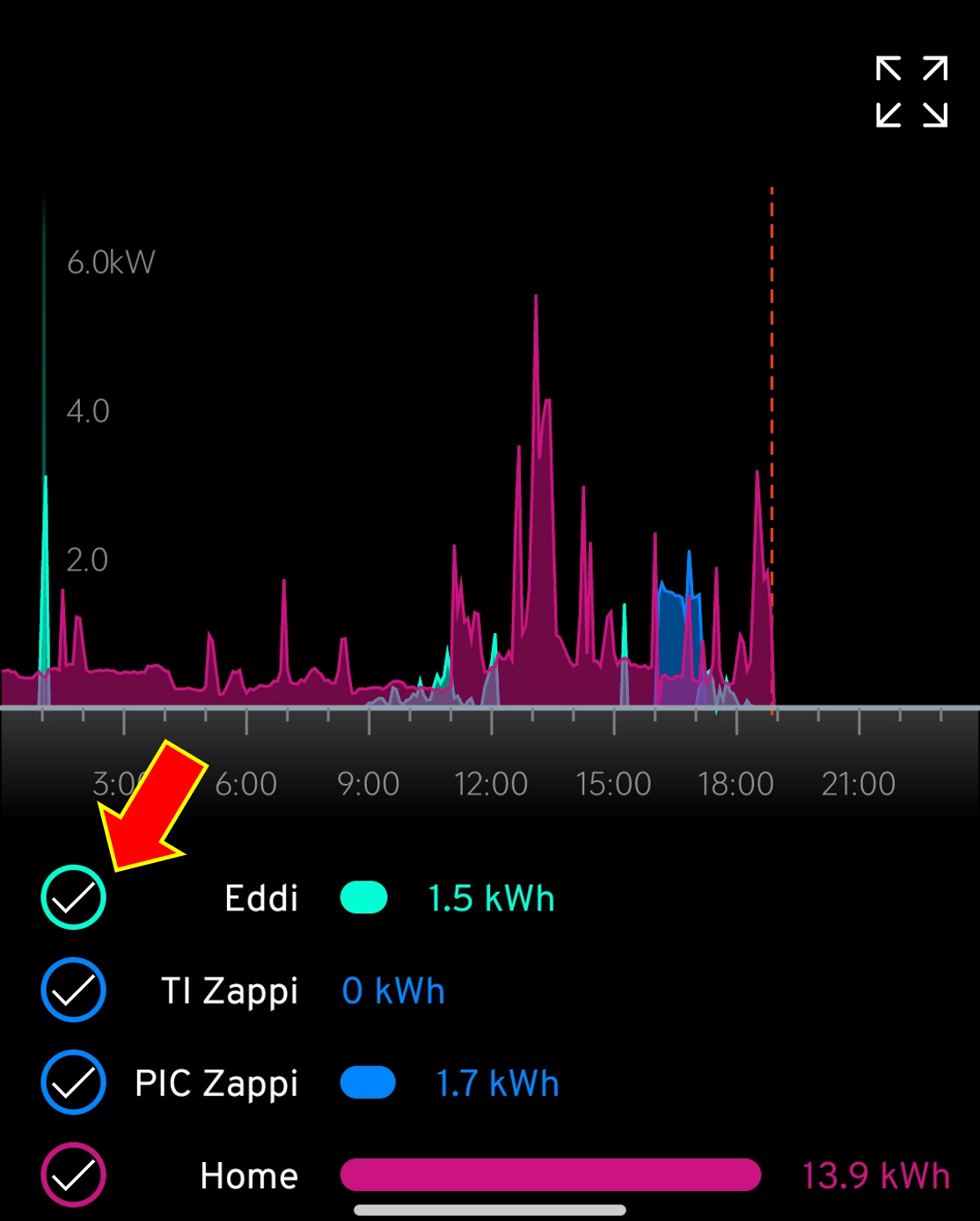 On either of these graphs, selecting the expand icon in the top right-hand corner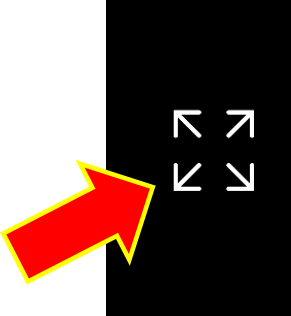 or rotating the phone/tablet, expands the graph to full screen