IMPORTANT! PLEASE READ
Relating to zappi 2.1 Charge Point (zappis with 'H' in their Model Number)
Overview
Recently, there have been a number of reports of overheating around the supply terminals due to incorrect installation. In order to mitigate the risk of further issues, please read this article for the correct method of install.
Causes
There are three main causes of the terminal burn outs, these are:
Conductor cable being inserted into the wrong holes (cable release holes)
Conductor cable being inserted too far
Not using a ferrule at all when installing with fine or superfine stranded wire
Example incorrect installs

Correct Method of Installation
Method

1. Strip length of cable

18mm

2. ONLY for stranded, flexible, fine or super fine cable

Insert cable into ferrule and crimp prior to insertion. Ensure the ferrule barrel is 18mm in length.

3. Insert cable

Insert cable into the respective L, N, E conductor entry holes of the terminal. No undue force is necessary so don't push further than it is willing to go.
IMPORTANT!
Do NOT push anything, including tools and cables, into the release lever hole.
If in doubt?
There is a yellow label inside the zappi, placed directly underneath the supply terminal which you can refer to, if required.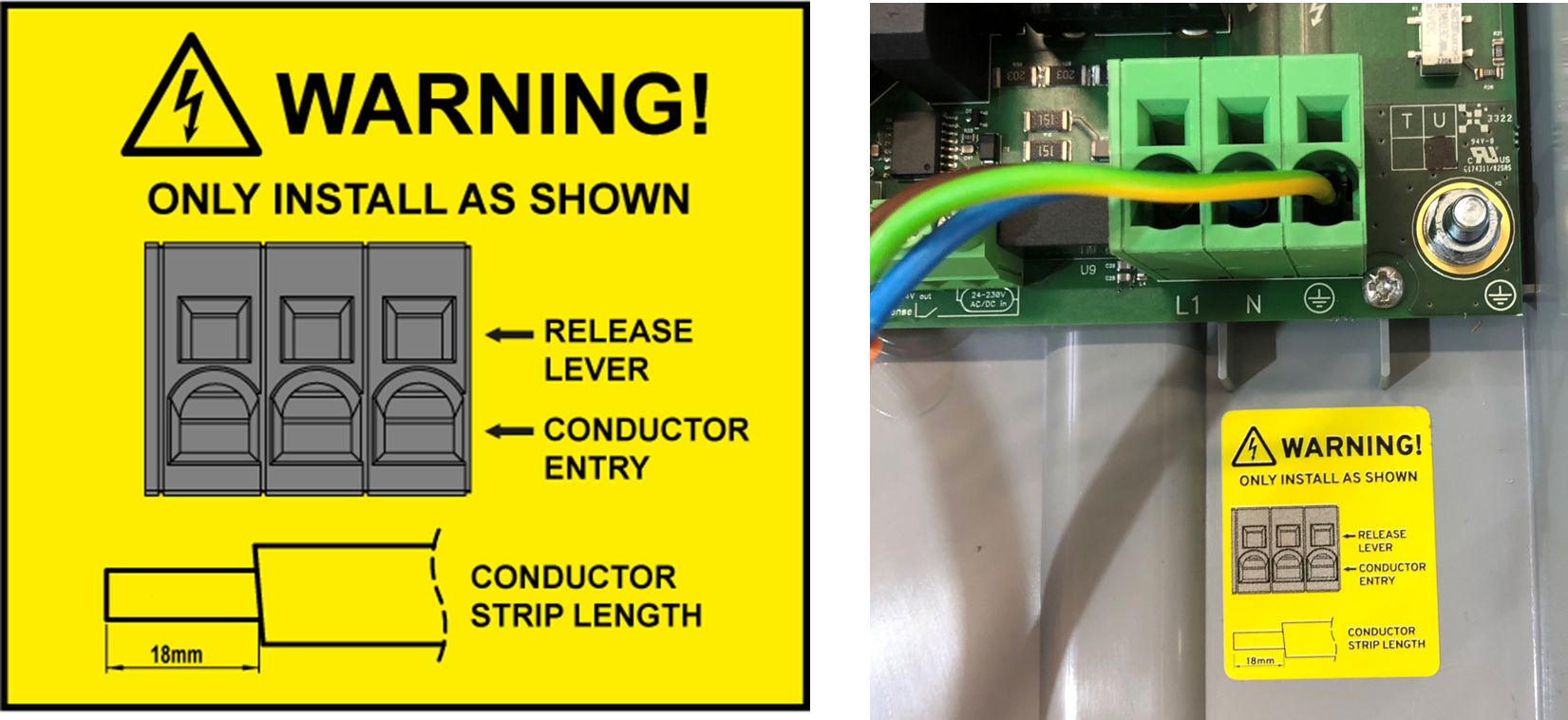 There are also photograph examples, for reference, in the Quick Install Guide which comes in the box.
DO NOT
Do NOT push anything, including tools, into the release lever hole
This is to be used ONLY to release a cable upon an uninstall!
Do NOT use EXCESSIVE force to insert the cable further than it wants to go
Simply, push in the cable, by hand and let go. There will be some amount of force , however excessive force will insert the cable too far.
Make sure that the metal spring terminal is only pressing on the exposed end of the wire, or the metal part of the ferrule, if used, and not onto insulation of the wire, or the plastic part of the ferrule.
Below are examples of correctly inserted stranded wire and ferrules. The insulated plastic around the ferrule should be inserted no more than that shown in the examples.
Once inserted, carry out a tug test of all conductors to ensure they have been clamped in the terminal sufficiently.
Do NOT insert any cables into the release lever holes
The bottom row of circular holes are for conductor entry. The top square holes are release levers only.
Warranty
Incorrectly installed zappi Charge Points will void the Warranty of the product.
Contact myenergi Technical Support
If you are ever in any doubt, please give our Technical Support Team a quick call and they will be more than happy to assist you.
Call us: 0333 300 0313