In this article:
---
Introduction
The first time you add your system to the myenergi app or the online account, you will be asked to enter:
the Serial number
the Registration code
---
Where do I find the Serial Number to register in the app / online account?
Please note that it's the Serial Number of your "Gateway Device" that needs to be entered. This depends on whether you have:
I have a myenergi hub
If you have a myenergi hub, then enter the serial number printed on the label on the bottom of the hub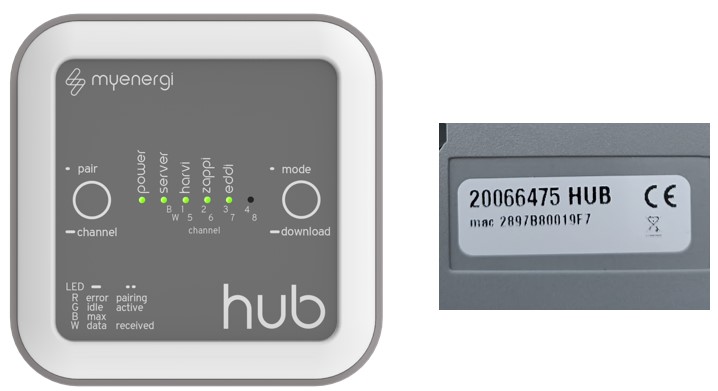 I have a myenergi device with built in WiFi / Ethernet
The latest myenergi devices have built in WiFi / Ethernet port and don't need an external hub to connect to the internet.
On these devices the serial number is found on screen 2 the INFORMATION menu


---
Where do I find the Registration Code?
The Registration Code is found on Page 2 of the INFORMATION menu.
This screen may look a little different depending on the device and the version of firmware installed,
---
My device has been registered before.
If your device has previously been registered (e.g. you bought it second hand), or you don't know any of the previous login details, please contact the myenergi technical support team for the region you are in.
You should also contact us if you have changed your phone and are having problems setting up the app / registering your myenergi devices in the app on the new phone.
---
Can I add someone else's hub to my app?
If this is not your hub, please ask the owner to share it with you (please see article on sharing here)
---
I can't find the registration code / the code is not displayed
If the registration code is not displayed on the Information Screen 2, there are two possible causes
The hub is not paired to the eddi or the zappi,
Check the Linked Devices menu to check that the hub is listed.
If not, then you need to pair the hub to the zappi / eddi

or


The hub is paired, but it's not connected to the internet
Check that the server light on the hub is blue
If it's red or not lit then make sure your hub is connected to your router, the power light on the hub is green and you have an internet connection
If it's green then the hub is already registered